I am a fan of Shel Silverstein and Dr. Seuss of course. But recently I've discovered another fun poet that I'd like to get to know better who is perfect for the school-age set (and beyond actually . . . )
Introducing: Jack Prelutsky!
This may not be an introduction at all though. Apparently, he's been writing for 30 years and was named the first Children's Poet Laureate by the Poetry Foundation in 2006. I don't know how he has escaped my notice and I'm actually pretty ashamed to admit it because he is fabulous!
My 3-year old and I have been reading
The verse is fantastic -- rhythmic and fun. Humorous -- I love the play on words and animals. And the illustrations completely do it justice. She loves the animals of course. And sits mesmerized by the poetry.
He also has a fabulous
website
with poems and activities and a place for parents to get ideas to utilize his work and teach poetry in general.
He also had a hand in a book that is on my list of books to add to our personal library. Well, maybe a little more than a hand since he selected of the poetry in this book: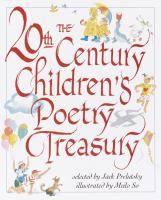 This is a fabulous, fun anthology with humorous and serious poetry. Poets include Mr. Prelutsky himself and a wide variety of classic and more contemporary poets. It's organized somewhat by subject and so it's been a great book to use in putting together my poetry scavenger hunt -- now that will be fun (coming up at the end of the month). If you're working on a poem a day, this is a must have!